Hello fellow translators,
Precisely at this month Translator++ has been around for a year.
For each passing day, Translator++ is getting closer to the game translation tool in my vision.
And this is all thanks to your support.
Translator++ wouldn't exist without you!
In this happy moment I also want to announce the new release of Translator++
Translator++ ver. 1.11.19 :
Word wrapping algorithm has been updated!
Horizontal marker for Current Cell's text editor's has been added
Line number for Current Cell's text editor's has been added
Options menu for Current Cell's text editor's has been added
Current Cell's text editor's font changed to mono-spaced font.
Fixed bug : Map name & notes not translated in RPG Maker MV
Behavior change for RPG Maker MV : although there is no event data, map data will still be loaded for the map names & notes.
Text to voice feature has been implemented.
Translator Engine updated : Bing
Bug fix: Missing line after blank line on romaji generator
Layout change for original text window. The object can be selected in group now.
and more…
In this update I focus a lot on user experience when doing manual translation and editing, such as :
Current Cell's Editor's font has been changed to monospace.
Half-width characters will exactly take half the space of full-width characters.
This change is mandatory for the following feature:
Markings and guides
This is a nice addition to provide visual aid so the translator can know that the translation results will overflow in the in-game dialog box or not.
More control for Original Text's window
Now you can resize the font on the Original Text's window.
I changed the order of Japanese text rendering and related romaji. In the latest version, we can now select romaji characters or Japanese characters per line correctly. This cannot be done in the previous version.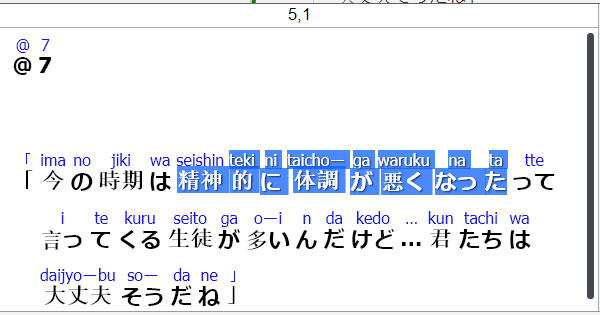 Did you notice the audio button at the Original Text's window's toolbar?
Text to Speech has been implemented
I find it easier to understand spoken Japanese than written. So I always wanted to have a feature to help me read the text in the Original Text window out loud. If you're like me, you will be greatly helped by this Text to Speech feature.
Maybe this feature doesn't support all languages. And it might also required to install the destination language pack on Windows in order to use certain languages. Please check it out!
You can download Translator++ Ver. 1.11.19 at the patron's download section.
Public Release
Translator++ Ver. 1.11.6 is available for everyone.
Happy Translating!