Hello fellow translators,
How are you guys? Hope you all do well in this difficult time.
This post will cover two versions of Translator ++ which were released only 2 days apart.
Translator++ Ver. 3.2.23
Fix : Unable to open Options menu from previous update
Add : Loading indicator on login screen
Translator++ Ver. 3.2.21
Fix : Disable intrusive "open cache folder" after project creation.
Fix : bug at 3rdParty installer for win32 bit
Fix : Buffered update checking to reduce application's startup time
Fix : URL at the Tip's window opens at the main window.
Add : XMLParser to handle XMLbased translations
Add : Auto-update module
Fix : Can not start RPGMaker 2000 & RPGMaker 2003 project
What has changed in these new versions?
Auto updater
I added a new module which gives us the option to automatically update Translator ++.
To make this possible I have to program the back-end on the server side as well to ensure that the user can receive the appropriate updates.
Why do we need an auto updater?
Fix and hotfix can be delivered faster.
Previously I had to do a series of procedures to make a full build for the 4 release types of Translator ++ every time I launched a new version.
To be honest it made me hold back on releasing the latest version until I actually had time. While waiting for the fix to be released, users sometimes need to be patient for a while with existing bugs.
This way patches, updates and hotfixes can be delivered to users at more frequent intervals.
Less hassle, less error, less time wasted!
As a user, if Auto Update is on, the update will automatically be installed without the need to download the full version and perform the Translator++ upgrading procedure manually.
This also minimizes errors when upgrading. There are a lot of people reporting errors caused by the wrong upgrade procedures.
There is no denying it, auto update can solve a lot of problems and definitely can minimize the time wasted for both you and me.
Smaller patch, more environmental friendly.
Previously, the release was delivered to you as a full version. Whereas in most cases, the core engine of Translator++ has not changed at all from the previous version. So uploading the full version of Translator++ for every small fix is inefficient … and sounds silly.
Oh yeah, Have I mentioned the smaller size for update files? The updates can be delivered in a smaller size now.
Also, all updates will run in the background and shouldn't interfere with your work. The changes will occur when you reopen Translator ++.
Of course Auto-updater can be disabled on demand.
The option to disable auto update is in Options-> General -> Auto update
And if the autoupdater is disabled, you have the options to update Translator++ manually from About -> Version Info.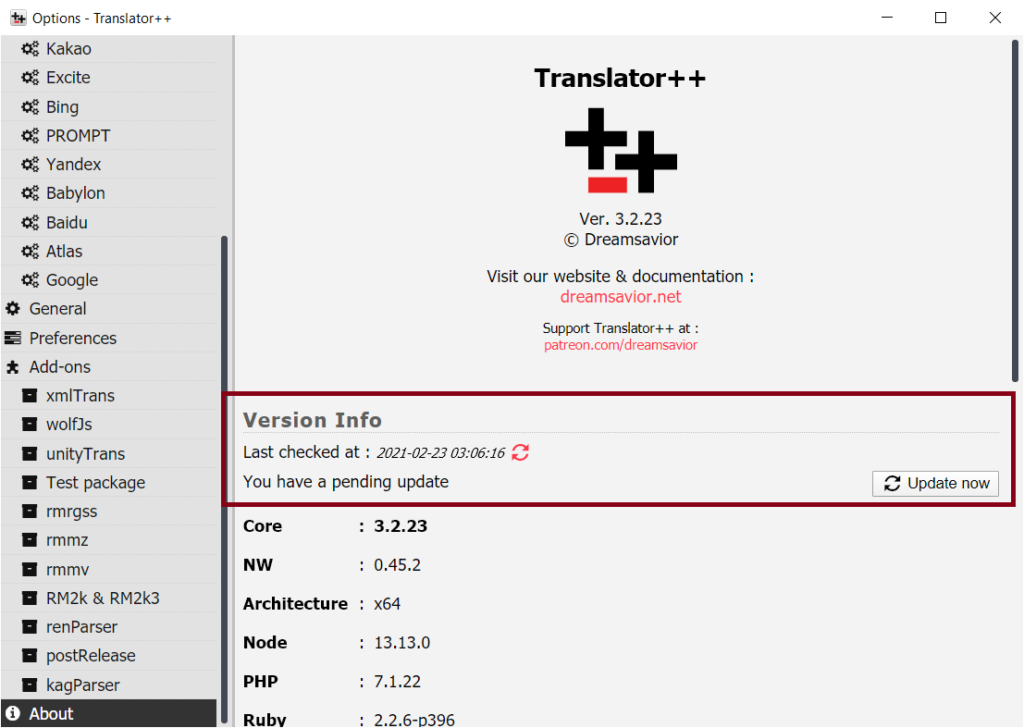 To use the auto-update feature you need to use your patreon account. This is made possible by the official Patreon's API. This is necessary to ensure that you get service according to the pledge you make. I hope that in the future I can provide more benefits to patrons based on their respective pledge levels.
You can login by clicking the user icon at the top left section of Options window. A series of  user consent dialog box will guide you to log in. Trust me it is only couple of click if you already have a patreon account. If you don't have one, you can link your existing gmail account to create a patreon account to connect to Translator++…. yes, a little bit roundabout, but trust me … it is not that complicated.
Of course you don't need to worry about personal data, other than your username, email address and your pledge level to Dreamsavior, no personal data is taken. Please visit the privacy policy page at Dreamsavior.net for more information.
Cheers,
Dreamsavior