Thank you for being patient waiting for the latest Translator++ update. The situation of the company where I work is not good lately, so for the past few weeks I have focused on my work and can't do much for Translator++. But I managed to create some improvements of Translator++ for all of you.
Translator++ Ver 2.2.10 changelog
Fix : Translator++ application icons
Fix : Create a new spreadsheet project from a folder.
Fix : Aggressive Splitting algorithm.
File properties button has been added into the grid window
Fix : Unable to open Context Tool when there is no context existed.
Fix : Unable to create new project (trans.dataPadding fault)
Add : Remove row via context menu
Add : Remove row via keyboard shortcut (shift+del)
Add : Import object from .trans file
Add : multiple selection on the file selector by mouse drag
Fix : The last row of column key is editable through Current Cell's editor
Fix : Issue of persistent Current Key Cell when selecting row with blank key cell 
Fix : Sanitizing blank key from all loaded trans
Fix : The initial translation progress of a data with blank content is now 100%
And much more
Import Object From other Trans
Now we can import objects from other projects. So we can reuse the Common Reference that we use in other projects.
Automatically load Common Reference on new project creation.
I made a new menu in the options menu to choose which files to use as the Common Reference. By default the file is named template.trans. Of course, you can edit this file with Translator++.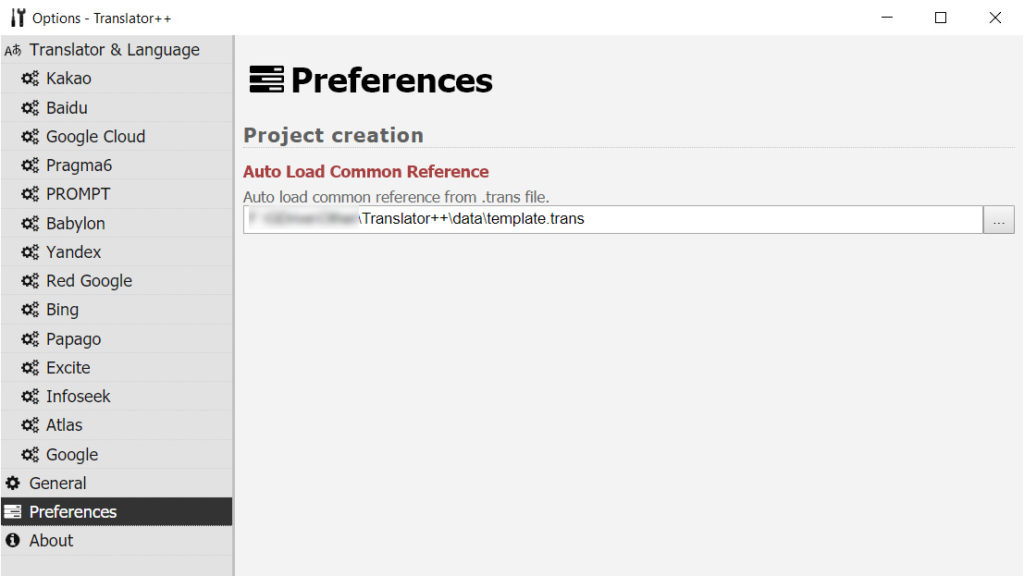 At the moment template.trans only contains a small collection of terminology commonly used in RPGs. In the future I plan to make a broader list of terminology. But this is homework for the next release.
We can also import only the results of the transgression of the .trans target into the current project. This method is especially important if we are updating source material.
I have created a reference to a .trans file so developers can produce their own .trans files for Translator ++. Trans file is an open file format, this opens the opportunity for anyone who knows JSON to produce translation files for games that are not supported by Tranlsator++ to work on Translator++.
Because Trans file format will be used extensively from now on, Translator++ have to accommodate ways to create .trans files by themselves. I mean, Translator++ must be able to create a project without source material, or in other words create a new project from nothing.
UI/UX Improvement
Because so far Translator++ has been made with the thought that translation projects are made through source material (whether it's a game, or a spreadsheet file) … then creating a new project from voids is a new paradigm for Translator++. I have to adjust a lot of things on UI and UX Translator++.
That is why I added the "Add new key" (alt + n) to the toolbar.
I also made so that we can input new key through the Current Cell Editor.
We can now delete rows from context menu or shortcut shift+delete
Selecting one or more objects even easier now with drag select.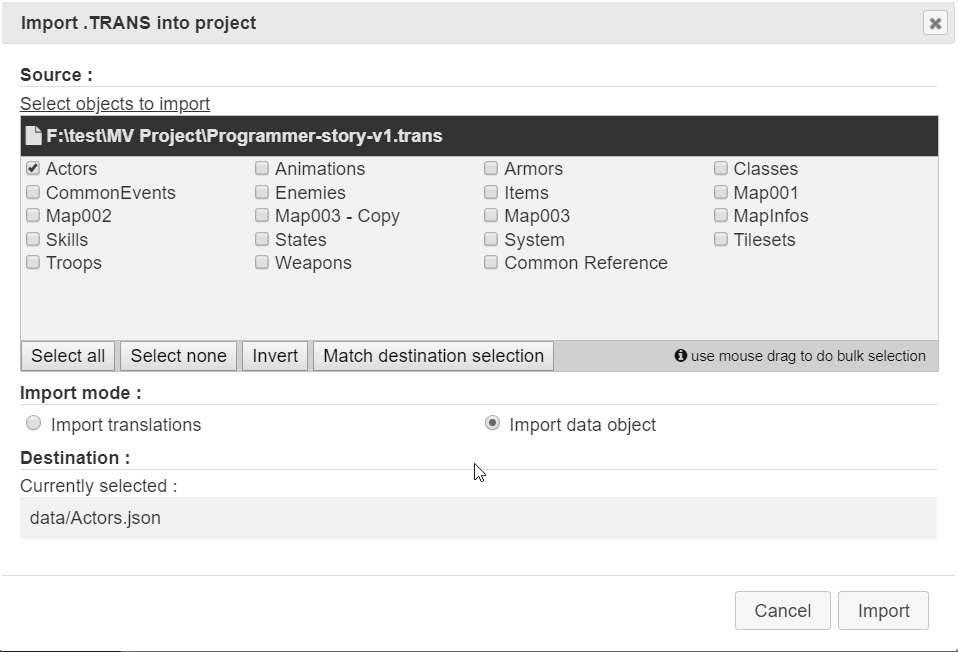 Now we can select several objects at once by drag select.
Translator++ Ver. 2.2.10 can be downloaded in the Patron's download page.